Stroke Rehabilitation: A Complete Approach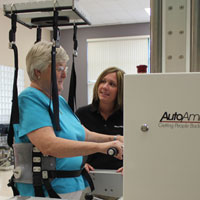 Stroke occurs when blood flow is lost in the brain. When blood flow is blocked or lost, localized damage occurs. Stroke symptoms vary depending on the severity and location of the damage, but typically may include:
Weakness or partial paralysis, usually on one side of the body
Speech and swallowing difficulties
Trouble with balance, walking and movement
Difficulty grasping and using the affected hand
Stroke symptoms often respond to rehabilitation treatment. A careful therapy plan targeting strength, skill and speech improvement can help bring the stroke victim to the fullest potential of recovery and function.
Overview
Prevention
Treatment
Support
Certification

By demonstrating compliance with The Joint Commission's national standards for healthcare quality and safety, our hospital is accredited by The Joint Commission.
See Our Hospital
Join us for a virtual tour of our hospital where you will see our patient rooms, exercise facilities, and more. You can also set up a personal tour by calling our hospital.
Patient Quote
The compassionate and positive staff is making his stay a positive experience as well as contributing to his recovery
Patsy L. Gruenenfelder