Home »
Spinal Cord Injury »
Spinal Cord Injury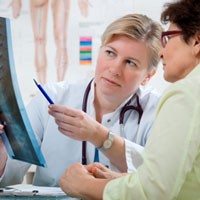 Spinal cord injuries generally begin with a blow to the spinal column. The force can fracture or dislocate vertebrae – the bone segments in the back. And spinal cord tissue is damaged.
A wide range of symptoms can be experienced, depending on the severity and location. Some spinal injury victims can expect full recovery with rehabilitation. Other injuries are more serious and can result in paralysis. In either case, rehabilitation is important to treatment and repair.
In addition to limiting mobility, spinal cord injuries can result in additional issues, such as respiratory problems.
Our hospital has all the resources needed for specialized spinal cord injury care. The team approach puts the right experts and therapies together for the best possible outcome, focused on:
A custom treatment plan, specific to the patient's needs
Medical care and recovery
Training and adaptation
Supporting the emotional needs of both the patient and caregivers
Accessing home-based services as needed
Maximizing function at the fullest potential, despite limitations
Overview
Prevention
Treatment
Support
Certification

By demonstrating compliance with The Joint Commission's national standards for healthcare quality and safety, our hospital is accredited by The Joint Commission.
See Our Hospital
Join us for a virtual tour of our hospital where you will see our patient rooms, exercise facilities, and more. You can also set up a personal tour by calling our hospital.
Patient Quote
The compassionate and positive staff is making his stay a positive experience as well as contributing to his recovery
Patsy L. Gruenenfelder