Better Outcomes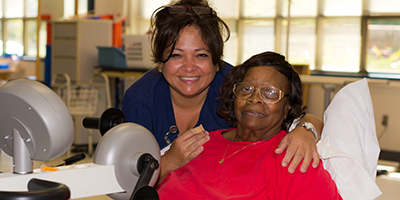 Measuring outcomes for increased independence
Here at HealthSouth, the nation's largest provider of inpatient rehabilitative services, your expert team of independent private practice physicians working in conjunction with HealthSouth nurses, therapists, and support staff is committed to providing safe, quality and cost-effective care to help patients improve everyday living skills.
HealthSouth's Clinical Leadership Board provides oversight for our nationwide network of hospitals. The Board's mission is to ensure that each hospital has the information, education and resources needed to provide care that is both clinically and operationally excellent. This board includes national representatives from each clinical discipline and is led by HealthSouth Chief Medical Officer Lisa Charbonneau, DO, MS.
The goal of every team member is to help our patients meet their maximum independence and enhance quality of life. We use the FIM® instrument, which is a measure of functional improvement from admission to discharge. Developed by Uniform Data System for Medical Rehabilitation (UDSMR®), it is the industry's most widely recognized outcomes measurement tool. There is no such database for nursing homes.
The UDSMR® system:
Evaluates and tracks a patient's functional status upon admission and discharge to document and assess rehabilitation effectiveness
Captures data from almost 800 rehabilitation hospitals
Submits data to Centers for Medicare & Medicaid Services (CMS)
Allows HealthSouth rehabilitation hospitals and affiliates to benchmark against national performance data
Our patients' rehabilitation experience
Our hospital works hard to set the highest standards for patient care by protecting privacy, listening to needs and respecting preferences. We have enlisted Press Ganey, one of the nation's leading healthcare research firms, to continually measure our patients' experience. With Press Ganey patient surveys, as well as other collected data, we are better able to evaluate our patient experience and help patients reach their goals for maximum independence.
FIM® instrument is a trademark of Uniform Data System for Medical Rehabilitation, a division of UB Foundation Activities, Inc.
Certification

By demonstrating compliance with The Joint Commission's national standards for healthcare quality and safety, our hospital is accredited by The Joint Commission.
See Our Hospital
Join us for a virtual tour of our hospital where you will see our patient rooms, exercise facilities, and more. You can also set up a personal tour by calling our hospital.
Patient Quote
The compassionate and positive staff is making his stay a positive experience as well as contributing to his recovery
Patsy L. Gruenenfelder